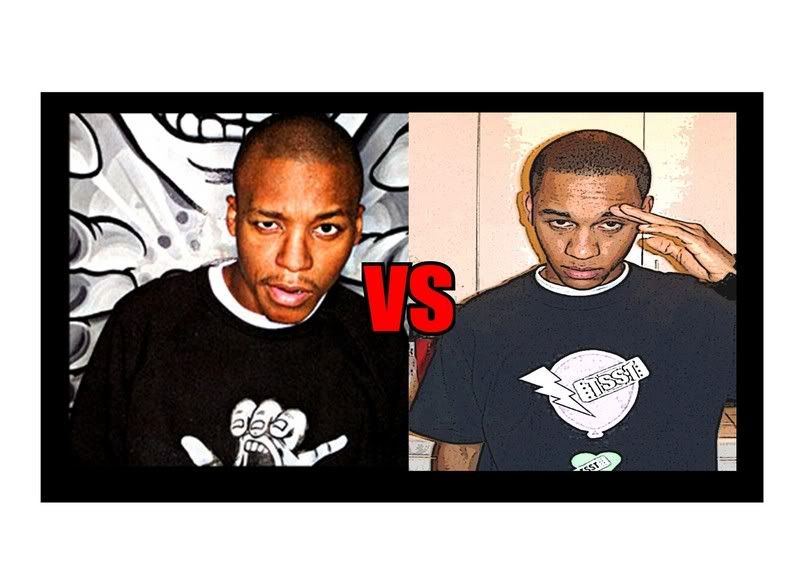 So we have a Challenge...
LADIES AND GENTLEMAN, LET'S GET READY TO RUUUUUUMMMMMMMMBBBBBBBBBBLLLLLLLLLLEEEEEEEEEE!!!!
To my Left we have Lupe Fiasco, all the way from the Westside of Chicago, Rapper Extraordinaire representing 1st & 15th Up All Day

And to my right we have Turbo, coming to you all the way from Cala- For-Ni-Ay (California for the lames), repping the TSST (The Scramblin' Scholar Team)

If you haven't heard Twilight Zone by Lu, you can listen to it on the player thats on this blog!!!
Step up to the mic
Turbo
...
DISCLAIMER: This is all in good fun...Not to Be Taken Too Seriously!!
(In other words...Don't be Bashing Dude)
Check it out and tell me what you think:
Twilight Zone Part 2- Turbo's Version
I listened and thought it was worth putting on here, so you know it had to be kinda cool...But really though, I FUX WIT IT...lol...and so does Krusty...
If you like his style and all that, he has more songs on his myspace page...I actually like those songs too...I wanna go out and buy me a little Blue Backpack...lol...Check out his page though!!!!
Scramble Team Myspace
I tried making the picture be a link to the myspace page, BUT I'm not up on my HTML that good yet...Imma work on that...lol